Have you ever imagined living in a non-materialistic world? Well, if that were real, it would have been the perfect place to live. But, money is an essential part of our lives. If you are struggling to maintain it, you should read through these incredible Vastu tips to fill your house with positive energy and prosperity.
1. Keep your house well organized
Keep your home clean, neat, and free of clutter and unnecessary household goods, according to Vastu. Ensure it is simply organizable and easy to the eye. The energy that flows through your home is responsible for how you handle your relationships, health, and finances. So keep the central space in your living room clear of clutter. Maintain the cleanliness of your windows and doors, as well as your drawers.
2. Deal with leakages as soon as possible
Water leaks in the kitchen, bathroom, and even the outdoor garden area, according to Vastu Shastra, are symbolic of money leaking and represent financial loss. Considering this is a must, especially during the monsoon season. Water leaks from the walls or a broken pipeline within the home must be resolved as soon as possible. Because they can cause significant financial loss.
3. Decorate the main entrance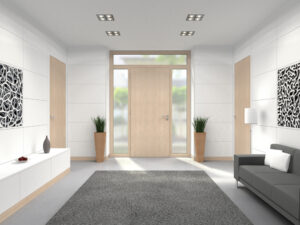 Decorate your main or entrance door uniquely so that prosperity and wealth can easily find you. Decorate your house's name and number plate as well. Maintain a well-lit and colourful environment in this area.
4. The Money plant effect
Money plants, which can also be kept indoors, bring prosperity and good fortune to your home. According to Vastu, Placing a money plant in a green vase in the north direction attracts money and better career opportunities. A bamboo plant, a painting of a dense forest, or a lush green field can all bring plenty and wealth.
5. Feed the birds
Feeding water and grains to birds in your plot's yard attracts positive energy and wealth. Birds represent harmony, wealth, and joy. Keep a bird feeder in your yard or balcony and fill it with water and grains to attract wealth and positive energy.
6 Prefer Purple.
Purple, according to Vastu, represents wealth. Purple plants, such as Orchids, and purple-coloured pots, bring a lot of positivity into the home. Purple is associated with wealth. So, keep a purple-coloured plant in your home.
7. Avoid high rise buildings
Avoid any high-rise buildings, temples, or other structures in front of your plot or home, as this will result in a loss of wealth. If there are high-rise buildings and temples nearby, make certain that their shadow does not fall on your home or plot.
8. Keep an eye on the clocks

Clocks, according to Vastu, are devices that energise a direction. Check that all the clocks in your home are in working order. Slow or non-functional clocks are said to represent delays or stagnation in your finances. According to Vastu, orienting clocks to the north or northeast will bring wealth and prosperity.
9. Right place, right colours
Colours can influence our moods. This is a fact. Colour, according to Vastu, also plays a role in increasing energy in a specific direction. Because it is associated with God. The northeast direction is the most pious direction in a house. As a result, generating positive energy in this area will lead to an increase in wealth, health, and prosperity.
10. Go green
If you have a garden in your home, include a money plant because it will bring prosperity into your home. To maximise the plant's effect, it should be placed in a green planter or pot. If your home does not have enough space for a garden, try to include a painting of lush greenery. Whether it's paddy fields or a forest, in the northern section of your home. This will have an impact on the prosperity of the household.
11. Open central area
According to Vastu shastra, the most auspicious zone in your home is the centre. As a result, it is critical to keep it clutter-free. Make sure there is no obstruction in this area, whether it is a loadbearing column or a decorative pillar.
12. Give attention to the kitchen
Keeping your kitchen neat and organised, in addition to choosing the right Vastu colours for your home. It can make your home healthy and wealthy. A clean kitchen promotes the flow of positive energy throughout the home and prevents negative energy from entering. This harmony in the environment is also responsible for a consistent flow of income.
Read article on Kitchen Design and Ideas.
13. Place your lockers in the southwest corner
Place your lockers or safes in the southwest corner of your home if you want financial abundance in your life. This area represents the earth element, which ensures stability. Furthermore, your house's locker should never open in the west or south directions. Ignoring this can result in a significant outflow of funds.
14. Cleanliness of the glass panels
Although doors and windows bring in natural light and fresh air, they also help to boost the positive energy in the room. As a result, it is crucial to keep the glass panes on doors and windows sparkling clean at all times. As dirt and stains on the glass can hinder the free flow of money into your home.
15. Space for water bodies
Giving water bodies, such as fountains or aquariums, a place in your home can be very auspicious. To increase the flow of wealth, position these things in the northeast corner of the building. Keep in mind that the cleanliness and flow of the water are essential considerations that should be tested and managed. Ignoring these can lead to financial setbacks.